I welcome your reflections on anything that you encounter as you wander through my Entangled Bank.
Click here to send me an email.
I'm a husband, father, and steward of a few acres of the fall line on the Rocky Hill—Princeton—Mount Rose Ridge. I love birding, walking, sailing, and body surfing. I'm a mower of lawns, splitter of wood, and lover of words. I taught English for more than 25 years, at Phillips Exeter Academy, School Year Abroad, and Princeton Day School, where I chaired the upper school English Department from 2000-2013.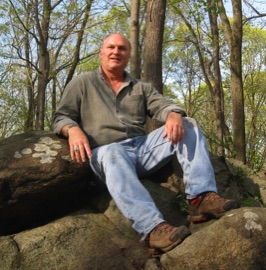 Therefore am I still
A lover of the meadows and the woods,
And mountains; and of all that we behold
From this green earth; of all the mighty world
Of eye, and ear, -- both what they half create,
And what perceive; well pleased to recognize
In nature and the language of the sense,
The anchor of my purest thoughts, the nurse,
The guide, the guardian of my heart, and soul
Of all my moral being.
from "Tintern Abbey" by William Wordsworth